Dana Sion March 24, 2012 09:10:16 (EDT)

Sandy,
The dog park at Benson Park will be opened when the enough money is raised to pay off the fencing that was installed.
Check out www.hudsondogpark.com for more Info.

To adopt a section of fence: http://www.hudsondogpark.com/fundraising-2/adopt-a-fence

From the Hudson Dog Park at Benson Park:
Just wanted to clarify the Donation Amounts and Fence Payment information since the Donation Can on the website isn't currently reflecting the amount money we have received and paid!

The total fence cost is $19,800. So far we have paid $9000 and currently owe $10,800.

We received almost $1700 from the DOG Sled Event on February 26th and with some additional online donations we are planning on making a $2000 payment to Gate City Fence in March so that we will owe $8,800. Paying off the remaining fence balance is one of the main steps in getting those gates open!

Sorry if this caused any confusion, we're working on getting the online amount to be more accurate, this should be resolved over this weekend.

If you have any questions please contact me: jbarker@hudsondogpark.com
---
Sandy March 20, 2012 13:19:44 (EDT)

Hi! When will the Dog Park open? Thanks!
---
Steve March 14, 2012 19:15:02 (EDT)

Hi Cheryl. Thanks for the pleasant image. It is good to know the turtles are doing ok out there. I heard the frogs going to work today, too.
---
cheryl March 13, 2012 17:38:28 (EDT)

Counted 5 basking in the sun today !
---
cheryl March 13, 2012 12:01:06 (EDT)

Steve,
I'm expecting turtles on the logs any day now, with this crazy early warm weather !
---
Dana Sion March 11, 2012 22:37:38 (EDT)

The dog sled fundraiser for the friends of the Hudson dog park was great and raised some much needed funds to help open the dog park
---
cheryl March 6, 2012 10:41:07 (EDT)

hey how did the dog sled day go ?

lots of funny sled teams ??
---
Steve February 20, 2012 18:23:40 (EDT)

Thanks, Cheryl. You are a kind soul.
---
Cheryl February 20, 2012 09:07:19 (EDT)


Turtles are a symbol of longevity.
Sorry about Penelope.

Don't know if it's still alive but...the vet down on D.W. Highway had a turtle that someone picked up off the side of the road. It's shell was crushed. The doctor repaired the shell with cement or something and the turtle was swimming in the tank in the waiting room !

My vet has a turtle he has had since his college days !
Which makes her 40 something.

I had 2 retired classroom turtles Sunoco and Shell.
They were native pond turtles and after sometime of a different diet I was able to release them back to a pond.
Sunoco swam away fast and Shell started eating right away in the shallow water before she swam away.

On a sunny day behind my house, I love to quietly sneak up on the turtles to count how many are on a fallen tree in the river. On a good day there's at least 10-15... sometimes more

Again sorry about Penelope !!
---
L. Records February 19, 2012 21:04:51 (EDT)

I'm not looking to return the message board to just Benson's people but to all who loved Benson's for what it was hopefully without being so judgemental.
Part of Benson's was circus. It is unrealistic to think young people were not inspired to care more for animals after seeing Benson's elephants, cats, bears,seals,chimps and others performing. While I was trainer there we got strongly positive feedback every day. A good education requires more than studying just a couple of subjects. You might not get much info about natural history or conservation directly. However much that can be absorbed by young minds. A zoo exhibit or lesson on a computer, while important, can not equal to the inspiration that can be forthcoming from some performances. I am not for unsafe power tricks or animals in human clothing. Performances can and should show animals natural abilities without being demeaning to the animal. Big cats leaping, rolling over, sitting up, leap-frogging over each other show their grace, speed, physical capability and ability to learn. The Himalayan black bears I trained at Benson's (Levi & Wrangler) loved to do their behaiviors. For apples Levi learned to roll on a barrel in one day. He sat in a child's swing and I swung him over my head. Was this beneath him? He couldn't wait to climb up and do it again. Do-gooders (yeah, I've had my share of people telling me my business)say elephant tricks are unatural. They balance, lay down, lift their trunks, lift their feet. spread their ears, sit up on their backsides and mount each other (hence: baby elephants)in the wild.Queen and Liz played the harmonica.Demeaning? Personaly I think children learned both of the elephant's ability to hold someting small with the two fingers on the end of their trunk and that they can breath and blow air in and out as well. The fact that it was entertaining in no way harmed the elephant. Music doesn't harm animals and I truly believe Queen, Liz and Jackie got into the act even more when there was a particularly enthusiastic audience. (I know I'm anthropomorphising and it's just my opinion.)What could more educational than sitting on an elephant's broad back and feeling her powerful muscles moving beneath you.
I was at the National Zoo in Washington, D.C. recently.
I would imagine this to be an example of what Mr. A.would consider a responsible zoo. This is a non-contact zoo where the keepers are not allowed in with the elephants.For enrichment and excersize they have a long path going up a hillside. To get the elephant to utilize this a keeper baited it with greens and treats. I watched about 30 minutes and I bet they didn't get the pachyderm more than 60 feet. That is something I found to be sad. Some zoos think enrichment is hiding goodies around the exhibit.
Benson's elephants got to go to the lake for a swim each day in warm weather. In cooler weather we took them to a gravel pit on the property where they slid down embankments and tipped over small trees. They were in the daily parade. They had constant attention all year long. Mr. Provencher cared a great deal for the elephants and made sure I had all the time and help I needed to make their lives better.
I agree much of circus history has been terrible for animals. I'm just saying it can be done right. There needs to be growth and understanding and that training can and should be a good thing.I know there are MANY things I could have done better and I try to do better every day with the animals I now have.


---
Steve (webmaster) February 19, 2012 20:57:46 (EDT)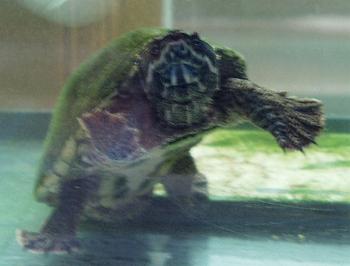 Penelope the Turtle, 1982-2012.
My dear turtle companion Penelope died from natural causes on Thursday. She has been part of the family ever since my then-two-year-old daughter found her as a hatchling in Robinson Pond. We have loved and cared for her all these years. She would have been 30 this summer. Penelope was full of spirit and curiousity. She was always watching for company and enjoyed having me sit near her and play with her. She loved joining in the activity when there were people visiting the house. She will be missed by many.
---
Bob Arctor February 18, 2012 20:33:36 (EDT)

What's the point of your post Larry? If you're so interesting in returning this message board to the Benson's people then why are you baiting Mercer? Larry Records opinion is obviously a little biased given the line of work he's in...

He's right about one thing, circuses and zoos are not necessarily cruel, just exploitative. It does all depend on the people. Major zoos have the benefit of ACTUALLY educating people about conservation and natural behaviors. I've yet to see a circus that has anything to do with actually helping animals or inspiring children to care about animals actual well being, rather than the tricks they can do. As for Mr. Records traveling "petting zoo" I could not say. But I assume it's nothing special.

You're all or nothing attitude ("I truly respect your view if you are a vegan, do not keep pets and would refuse life saving medical treatment developed thru testing on animals. Otherwise your high and mighty ideals make me want to barf.") is by far the worst attitude anyone can take toward an ideology. It's this kind of thinking that people use to reassure themselves that any kind of effort is pointless if it not the absolute most you can do.

As you can tell from the language he used, "do-gooders", "bleeding-heart", "animal rights activist", Larry has had some problems with people telling him "his business". For a man that knows all the counter-points, Larry may not understand the difference between the "animal rights" and "animal welfare" positions. Someone interested in either would object to Cole Bros. but not necessarily to a well maintained zoo, with caring people who are interested in conservation and education. Although Larry may call his rinky-dink operation a "zoo" it's just another circus.
---
Dana Sion February 16, 2012 17:55:45 (EDT)

Hello Anonymous(Urban Explorer),
The park is no longer abandoned and has become a passive recreational municipal park open for free to the public 365 days a year. (more details at www.facebook.com/bensons.waf).

You are more then welcome to visit the new Benson Park as it is called now however all buildings are now secured, alarmed and watched by the police and only open with special permission or if you are part of one of the many public clean up days at the park. In the future (if article #14 passes at the upcoming March 13 vote (2012) ) there will be a museum to the old park, concession stand and gift shop in the old Elephant Barn.

Why are many items about the old park noted as "Nashua, NH" it was because at the time Hudson, NH was much smaller then it is today and not well known at all and to mention the city of Nashua that it is next to was much more marketable.

For more details about the museum and park fundraising check out www.friendsofbenson.org (also on Facebook).
-Dana Sion
---
Larry R. February 16, 2012 15:28:46 (EDT)

I've been trying to stay out of this. But...

Good Lord! What a pile of BS.You do-gooders have no idea of the bond that can form between trainers and elephants and other exotics and the the benefit the animals can derive from the mental and physical excercise required in training for performing. Training and travel are not cruel. The important thing is how it is done.You can take great pride in knowing no child will ever again know the wonder of riding an elephant in New Hampshire.

I truly respect your view if you are a vegan, do not keep pets and would refuse life saving medical treatment developed thru testing on animals. Otherwise your high and mighty ideals make me want to barf. If you don't like the circus then don't buy a freaking ticket! Beyond that please leave this message board for FANS of Benson's . It was what it was. It's dead now. May it rest in peace.

After animal trainer Gunther Gebel Williams died an animal activist dressed in a devil costume danced on his grave. True story. Thats kind of what's going on here.

I am confident I know the bleeding heart counter point to everything I have written here.

My sincere thanks to Freinds of Benson's and the town of Hudson for the wonderful job they are doing in creating a beautilul park and preserving fond memories of a happier time. Now if they could just set up an animal rights activist filter at the entrance the place would be perfect.
---
Brad February 15, 2012 12:02:13 (EDT)

Thank you Wilbur Mercer for your comments. I too recall Benson`s as a child and have good nostalgic memories. To quote you:

"Take your nostalgia and remember the great times you have had with friends and family and Benson's, just don't forget to learn from the creatures that were taken away from theirs. We as a species are the product of millions of years of evolution and we have learned so much, especially recently. We need to start acting like it. Treat others as you would have them treat you. "


....is what i have learned as an adult that i had no awareness of as a child, But we need to know and share with other adults that we need to protect the animals, They are not willing volunteers. I would not let my children attend any circus with animals from what i have learned...and my children are all the better for it and know that they want the animals to be as happy as they are and enjoy the world we share with them.
---
Michael February 12, 2012 15:44:16 (EDT)

The Friends of Benson Park, Inc., hope to soon secure the purchase of Benson's Wild Animal Farm memorabilia. Help them secure a permanent home at the park: vote YES on article #14 in Hudson town elections in March of 2012.
---
Deb February 11, 2012 10:05:49 (EDT)

A little while back I found this site by accident & thru Friends of Benson's facebook page. I just wanted to say that I enjoy this message board for the insight and information that I would not find otherwise. I found the elephant sanctuary because of it and can watch the elephant I saw as a young girl at Benson's, that has spawned a great interest and as I discover more about these wonderful creatures, I share that knowledge with my young granddaughter.

So happy to hear about the good sized gift to the organization!
---
cheryl February 9, 2012 10:58:01 (EDT)

I don't think anyone considers anyone 'lowlings',
at Least I Hope Not.

I'm for....
No more Traveling Circus'

But we must agree to disagree
And
stop the bickering on this site.

The sun is shining brightly...
Get out and smell the fresh air !
Go to Benson Park if you have the time !
---
:) February 8, 2012 16:46:38 (EDT)

Thank goodness we have someone like a Wilbur Mercer to guide the rest of us through our ignorant ways. A burden has been lifted. We have his superior approval, so that of us 'lowlings' may continue on with our nostalgia. Now that we have moderately met his approval, we can again lift our heads with some degree of sentimental dignity. We may now proceed with our reminiscing and great memories per the yawning 'ok' of the Great Mercer. Pay heed, however, to his domineering threat of a mighty return, if we waiver from our sentimentally naive and ignorant ways:)
---
dottie February 8, 2012 16:21:36 (EDT)

i saw a message from you about bensons farm that said you are looking for a picture of your grandfather. he worked with betsy the elephant. i have a picture of my mother from 1933 getting on betsy there is a man helping her who looks like he works there do you think it could be him? if so i could scan picture and send it to you.thanks Dottie my email is mespringhill@aol.com
---